My most favourite thank you this year has been a box of biscuits from the Biscuiteers- https://www.biscuiteers.com/
Their stunning decorative cookies also taste scrumptious-the Christmas boxes are a unique and beautiful gift – I shall order one for myself!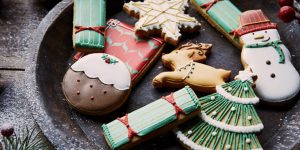 England eats more biscuits than any other nation – here is the history and recipes of the favourites in a charming small book  well researched and tested by Lizzy Collingham- ideal as a Christmas present for the baker in your family. Lizzie Collingham  books include Curry: A Tale of Cooks and Conquerors and The Taste of War: World War II and the Battle for Food. She is currently an Associate Fellow of Warwick University and the Royal Literary Fund Fellow at Newnham College, Cambridge. She recently completed a project researching the history of the kitchens of the Indian President's palace and regularly lectures on a gastronomic tour of Kerala. She works  like me inher 'garden shed' near Cambridge.
https://www.amazon.co.jp/Biscuit-History-British-Indulgence-English-ebook/dp/B084STCR8F/ref=sr_1_1?__mk_ja_JP=%E3%82%AB%E3%82%BF%E3%82%AB%E3%83%8A&crid=293GQA9LX0VN&dchild=1&keywords=the+biscuit+the+history+of+a+very+british+indulgence&qid=1607448560&sprefix=the+buscuit+%2Caps%2C295&sr=8-1