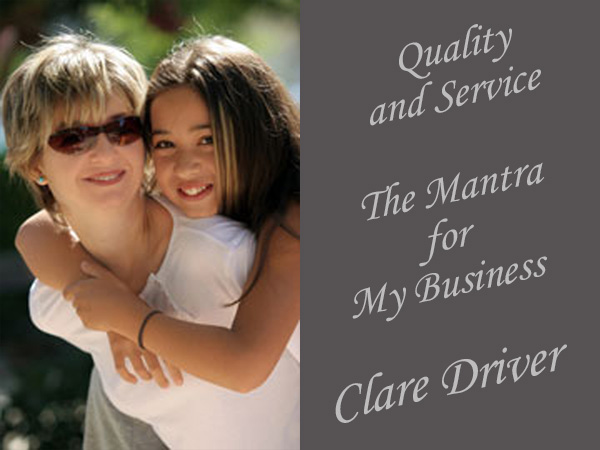 Testimonials
'Quality and Service' – the mantra for my business. Not purely words but an ethos that you will see in all aspects of our work.
Read for yourself from our selection of testimonials from a wide range of clients and candidates.
Tel: 01799 531958     Mob: 07834 956009
Client Testimonials
Dear Clare You smashed it!! So pleased!! Txx
Sxxxxxx has been and continues to be absolutely perfect for us – thank you so much again!!
First of all, thank you so much for finding Axxxxx for me. She is a gem and I feel so blessed that she has come my way – and this is thanks to you. As I said, I think she will make a big difference to me and I hope I will to her. She was a great hit with the home team here.
Hello Clare Many thanks – Sxxxxxx is AMAZING!!Thank you so much for all your hard work – our lives feel immeasurably improved already!
Thank you for your email – delighted to report an absolutely stonking first day from Sxxxxxx! We love her, Jxxxxx loves her and our stomachs love her! Epic work! Thank you so so much.
Oh Clare You really have made this whole process seamless & so easy. We were so daunted by the prospect of finding someone to slot into x and x lives & instantly make things easier but that really has been the case. We really appreciate the support you've provided, thank you.
Dearest Clare, You are a complete star! L called in this morning and she's going to come regularly to help once a week. It will be so lovely to have someone here who we know and trust. Thank you, thank you.
Thanks so much. I am sure we will work together again in the future! Thanks for all your help!
As I would have expected from your recommendations, Tammy is fab.
Just wanted to check in to say a huge thank you for connecting us to Dxxx, he's been amazing. Also, excited to finally meet Axxx tomorrow!
have read through these properly now and LOVE them. I think they are great with such useful and comprehensive advice in there for both sides. I really like the idea of the diary and the weekly 15 minute chats which we should definitely implement. I have printed them off.
What a brilliant CV and reference
I really enjoyed the whole process today I appreciate very much the personal and collaborative approach which is an extremely rare and, I believe, sought after commodity by those who value this type of working relationship. Thank you as well for explaining what takes place in the pre/during/post parts of an interview process. This will be very helpful and I am grateful for the support.I look forward very much to working with you.
Thanks Clare – I am seeing the principal today Will certainly put XX CV in front of her too. I'm currently not using another agency on this as I like your approach so much
Dear Clare, You have left an answerphone message for me to add to the detailed email reply to my original application. Again, thanks. It is a pity that more agencies don't show the professionalism and commitment to responding to clients that you do.
I shall certainly recommend you.
Good luck with your business – filling a very big need.
Hi Clare! Long time! Hope you are well and doing good. My Boss's Mother has asked on behalf of Friends of hers who have a house in Holland Park if I know of a decent Agent. They need a Couple to help them including cook, shop and driving. No idea of any other details about them or the job but I have said you are the best I know! Good luck! Take care.
I've been away a lot with work over the last few weeks and XXX has worked so well! She's kept everyone organised – cooked for everyone, organised Lily's Duke of Edinburgh expedition trip, and kept all the tradespeople out of the main house to name but a couple of things. She'll turn her hand to anything without hesitation and we get on really well. Thank you so much for your help in finding someone so compatible with our family needs!
I hope xxx gets in touch, did xxx from xx ever get in touch? If not send them an email saying xxx has recommended domestic bliss recruitment agency for all their staffing needs
XX is terrific. We are happy to offer him the position of General handyman, gardener, driver. He is a charming man. Thank you Clare for finding us the right person at just the right time.
I shall certainly be in touch with you . You have been very helpful and xxx very much advised me to go to you so if any of my friends need to find help in the future I will give them your name and number.
I want to take the opportunity Clare, to say thank you for your professionalism and your attention to detail.
We have now ended the search for the Assistant Housekeeper, however I wanted to thank you for your professionalism and being so helpful throughout that period, in future I will recommend your agency to my colleagues if they need to reach out for help.
Dear Clare,We have today engaged a new Housekeeper so you can stand down your search. Thank you so much for your enthusiastic efforts to get us sorted and Julia was a godsend in December and January. Sadly, as she could not return to us we had to find someone else urgently and a suitable lady came. We have a probationary period to go through but hopefully all will be well and I will not need your services for the time being. Should anyone I know ask about a Housekeeper Agency I would have no hesitation in recommending you and Domestic Bliss.
Dear Clare
Please be assured I shall definitely recommend you to others after the generosity of spirit and trust you have shown me these last few weeks.
You have offered me extraordinary service Clare and I am wondering how I can help you in Sydney as employment agencies over there are hopeless. In fact I find them so sloppy and unprofessional I simply won't use them.
Somehow I think our connection will be enduring. If I can help you in any way I would be delighted to assist. Should I be needing further help in the future you will be the first person to whom I shall turn.
You have named your company aptly indeed.
I would like our line of communication to be kept open if you don't mind. I so enjoyed meeting you over the phone and perhaps I can forward further information from Sydney that may help you as well when and if you are dealing with others there.
Dear Clare
I did enjoy our conversation yesterday and am delighted S has connected us. I know you and I are on the same page regarding my requirements for the position at Palm Beach. I do look forward to receiving the information
Mrs R said you'd spoken and struck up a great rapport, so thanks for looking after her (as I knew you would). I hope the connection brings you lots of referrals
Dear Clare,
It was great to talk to you yesterday, and I feel very confident that you absolutely understand what we are looking for. I have also just seen the email about the candidate that leapt out at you for the job – she sounds so interesting, and I will get on and look at her CV and have a chat with my husband tonight!
Many thanks for your help so far
I will of course recommend you and as you know you are always my first port of call x
Dear Clare,
It's been a while, when you helped me to find a housekeeper for our apartment in central London.
I was more than satisfied with your service and the quality of the candidates you introduced.
Would you be able to help me to find a couple to work on the farm in our estate North of France.
Many thanks on securing the housekeeper and great working with you.
How kind of you to send me such a lovely and thoughtful note. As and when I'm ready for daily housekeepers, I will certainly come to you. you are a professional and kind lady and, I would be delighted to cross paths with you again too.
Hi Clare,
I just received a beautiful package from you and wanted to say THANK YOU! How sweet of you. I am so grateful to you for finding X for us… I should be the one sending YOU a gift. It's been great to form a relationship and I hope we get to work together again in the future. Thanks again, you really made me feel special!!
Dear Clare, Thank you so much for coming back to me so quickly. I appreciate it so much as XX had a total wobble this morning. I think we have retrieved things but only because of your prompt action and advice. Thank you so much. You really are a star!
Dear Clare,
Thank you for your email and setting up the meeting.
Will let you know how it goes of course.
Once again, many thanks Clare. You are indeed a bright star in the universe.
Thank you so much for introducing H to us. We could not be more pleased with his progress and the way he has assimilated into life at X
That's lovely to hear Clare, we are really happy to have Pat with us. Many thanks. A great find for us
Hi Clare, we are getting closer to the date when Jo starts! We are so excited and I know she is too. Just want to say thank you so many times to you for your assistance in finding Jo! She really seems to be a spectacular match. Thank you!
It was great to have a nice clean house to come home to and looking forward to x getting into the swing of things. So happy she's enjoying it too.
Mum, Please find attached the contact details for Clare Driver. Clare has done a wonderful job finding me a housekeeper in Scotland – and I know she has done an equally great job for other people I know.
Morning Clare I'm so relaxed and happy now such a blessing to have chatted to you and you to have thought of L for us!!Doing final packing up in our house today we move into a hotel for a few days tomorrow. Sending all my thanks and love again
Dear Clare,
Thank you so much for your lovely message and for introducing me to Lady Val, it's much appreciated. Likewise, I will keep you in mind should the referral opportunity rises as I work with clients all over the UK. I only recommend services I like and trust, and your welcoming and helpful attitude was truly refreshing to see.
Thank you once again &
Warm regards,
LXX is working out so well. She is lovely, patient, hardworking, not phased by my 'headless chicken' moments and everyone likes her very much. Thank you is all l can say!!
Lovely thanks Clare, will ask M to speak with N & N to tell them the good news! Likewise Clare, thank you for finding N & N and for making the whole process run smoothly. If I ever need anyone else in the future I will certainly be in touch.
Dear Clare,
I do appreciate your kind words and I also am very grateful for your understanding .

I do always try my best to provide my staff with as much confidence and knowledge to complete their job as possible .

I do appreciate your professional approach in solving the situation .
I am very happy to meet a professional woman like you with a great sense of fairness and understanding .
In essence you are absolutely right and we are really looking at this from the wrong perspective I suspect, ie from what we had and not what we are trying to attract. Maureen seemed like such a lovely lady and if we were to be having a restructuring we would look to be employing someone with just exactly her skill set. And finding a lady like Maureen who is prepared to work live-out is going to cost pretty much as you described, so, once again, your help and advice is very much appreciated.

It would be great if we could catch up some time – I'm sure it is my turn to buy the lunch …
Hi Clare
Just a quick one to say a huge thank you for finding xxxx for me – she is fab!
Speak soon
Thank you Clare. You are a breath of fresh air in this mad world we live in.
Bless her! XX is so lovely. Thank you for recommending her to me!
Sally is a complete sweetie and such a pleasure to have around. I honestly couldn't be more grateful to you both. Wishing you a very Happy Easter.
Thank you very much for being so kind and so thorough – you will definitely be my first port of call next time!
I have spoken to Clare who has a small independent agency, a one man team, whom I have known for many years. Clare has great knowledge and understanding of placing candidates in Private homes and very much understands the workings of a private estate, such as yours! I have had a relationship with her for many years and I can call her up for advice at any time and she is always willing to help. I don't abuse that time either!

The conditions of me passing on her details are really rather simple. The interview process is pretty swift for each candidate/couple she puts forwards to you and reasonable time allowed before getting back to her with a decision. Clare will not do a trial and has never placed anyone in ten years that has ever had a trail. Clare will give you the best candidates possible to suit the role and to suit the requirements of your family and estate. The benefit of using Clare are simple, if you do decide to employ a candidate of hers, she will be on the end of the phone or email to guide you as much as possible and also the candidates. I feel the relationship is worth its weight in gold and Clare really is a person you can really talk to about every situation. Clare is honest, truthful and to the point.

If you do decide to use Clare, of course fees are apparent but you get more than just a person filling a position and asking for their fees to be paid immediately. Clare would also be good to speak to about the roles you are wishing to fulfil, the salaries you should expect to pay, the hours about the role and any other concerns that you may have. Clare might just be able to get you the right person and help you develop that relationship for the long term.
I have spoken to a couple of other agencies but no one seems to grasp the situation like you have. Thank you. Having spoken to you yesterday, I feel more confident about the direction we would like to take.Thank you again.
I would like to thank you for all your much valued efforts and wish you all the best for the future.
Thank you too for always finding us dependable and trustworthy team members, I cannot imagine how my household and London logistics would function without L and A, and I am looking forward to F starting.

I hope you have a lovely summer
DEAR CLARE,
I HAVE BEEN MEANING TO WRITE TO YOU FOR AWHILE. I HOPE YOU ARE WELL, AND THANK YOU FOR YOUR LETTER.
I CANNOT THANK YOU ENOUGH FOR GAND M
THEY ARE MY DREAM COME TRUE—AND THE HOUSE IS A MUCH HAPPIER PLACE WITH THEM. THEY ARE ABSOLUTELY MARVELLOUS IN EVERY WAY. THEY GET ON WITH EVERYBODY.GAIL COOKS EXACTLY THE WAY I LIKE –AND THEY BOTH KEEP THE HOUSE MORE CLEAN THAN IT HAS EVER BEEN BEFORE.
THEY ARE NEVER MOODY AND DO NOT MIND DOING ANYTHING.THEY REALLY LOOK AFTER ME MAGNIIFICENTLY AND I AM MAD ABOUT THEM BOTH. I KNOW THEY REALLY CARE ABOUT ME TOO.-GENUINELY .
THANK YOU VERY, VERY MUCH AGAIN.
Thank you and I must say C and I have appreciated very much your care, advice and professionalism over the last few months. I also have recommended you to a director at JLL who is actively looking for help. Many thanks – you really are a rare and special individual. Much much appreciated.
As requested, you like to hear from us as to how we are getting on with K & K.

We have had our first shooting weekend which is very busy and intense. Both have been splendid. Nothing seems to be too much for them and nothing seems to faze them. Both my husband and I are really happy to have them around. I really hope they are happy too.
I cannot stress enough how helpful both have been and are. I personally feel they have been here forever I feel so completely comfortable and happy with both of them around. Like old friends.I think they are settling in well finding their rhythm.I really want them to be happy and comfortable. Like we are with them.
We have asked S and T to stay on! They have made an incredible start and have transformed the flat where they are now living. The Villa is looking fabulous and the rental apartment is ready to go. It's fully booked for the season! Thank you so much for finding them for us.
I literally cannot believe it…! These guys are fantastic and I have just found out he has employed someone yesterday afternoon from his own doing…!!!
Thank you personally for listening to EXACTLY what we were after. It shows you've been there and done it…!
You made things incredibly easy as well… I dealt with a couple of agencies before I picked up the phone to you and the promised e-mails never arrived or the phone calls never came, so thank you for being able to back up everything that's there on the website.

L has slotted in so perfectly that it feels like he's been part of the household and family for as long as I've worked there. We're lucky to have found him, so thank you for your help in that.
Once again I can't thank you enough for finding such a lovely family to come and join us, we are so thrilled and very, very grateful to you.
A is integrating perfectly with this family, we are trying to make him feel as good as possible , they are enjoying his food , Mrs S and her daughter really like the food plus A is doing all sort of diet food for them.

We were right when we said you know what kind of person can work with us.
Clare,You are a STAR! She is fabulous. Almost too good to be true
Clare, I am delighted that you have set up your own business and joined the "entrepreneur club". Those of us who have domestic staff, face many challenges not only in the recruitment of suitable persons, but also ensuring that the work environment we create is "adjusted" to meet the needs of both ourselves and the staff we recruit. Having recruited the staff, you very kindly worked through their induction period by consulting both with the staff and ourselves to ensure that we were aligned. As performance issues arise you have always been helpful and willing to repeat the exercise. Thanks for your efforts to enable both parties meet these challenges.
Thank you for your email. I have received the first resume and I have to say it is a good start. It clearly shows Domestic Bliss Appointments is very professional.
Dear Clare, You have already done so much for me and I hope I expressed in full my appreciation of providing me XX at no charge when I was reaching crisis point. It really meant a lot and I am very grateful.
Congratulations on such a marvellous nomination. You must be so chuffed. It is amazing and so well deserved. You are so professional and courteous and we have so enjoyed dealing with you.
Best of luck with the Business Excellence Awards. Let us know how you go.
I have given your name to a few of my friends in the past who were looking for staff
I am as delighted as you at how things have worked out and want you know how much I appreciate your part in it all.
Dear Clare
Happy New Year. I just wanted to thank you from the bottom of my heart for finding us X. She is blossoming all the time and gets more confident and more open as time passes. We really do know how lucky we are and I want you to know what a very professional and caring job you did. Thank you and all good wishes and gratitude.
As I've said to you before; the difference between you and the other Agencies out there is that you really do care about your clients and are prepared to suggest/recommend/implement what you feel is right for all parties.
Thank you for your email. You have been helpful and professional from start to finish. I am only sorry that X did not work out – their email is kind and we appreciate it. They are a high class couple. I will pass on your name to anybody looking for a couple with total confidence that you will give them a Rolls Royce service
I'm a great believer in a change like this being a great opportunity! I left my job and started my business in a recession and have never looked back. Its the best thing I have ever done! So very best of luck and let us know when you are up and running. Many thanks and wishing you all the very best with your business.
Yes X XX is a gem, I really like her and I do hope we do things together for a long while.
Just wanted to say a HUGE thank you to you for all of your efforts, time and support you've put into this. Without you I wouldn't have experienced what I did, and I definitely will learn from the experience. Thank you again for sticking by me and also for being such a great laugh along the way – and make sure you stay in touch Ms Driver.
Thank you so much Clare for all your professional advice as well as for the C.V. example.
I am ecstatic and you know why.
Thank you so much for introducing me to a top class housekeeper with the best attitude and manner, smile and temperament.
I wish to send you my best wishes Thank you for all the assistance and support that you have given me during all this year.
Thank you so much for my present, this is extremely generous of you, especially as I need no wooing – it goes without saying that any business I might have, would come your way.
We've indeed found a couple. The hand over between them and X is going on now during all September and October will be a probation month. I really appreciated your work, time and energy you've putted in finding the right people.
Thank you for both your emails. It is reassuring to know that the couple are happy and settled. Long may it last! I can't thank you enough for your sympathetic help. Yours is not an easy job, requiring understanding of both employers' and employees' needs.
Thanks so much for being the BEST ever consultant that we have never met but think the world of !!! If ever I can take on staff I will go thru you Clare as your client care is second to none….
Again thanks for your guidance and efforts. My dream is to bounce back from chaos to fill my life with wonderful staff from you!!
I can assure you he was really impressed, so am I, by your professionalism and reactivity. No doubt you provide top tier services to clients and prospects. The client precised he will use your company next time (he has several houses) and he will also feel free to reference your services to some friends.
We have found someone but this was confirmed only this week.

I had planned to see the people you recommended but we feel we have found the right person. One never really knows until they have been here for a few months.

I will of course, recommend you to friends and colleagues and I would like to thank you for all your help and endless energy and enthusiasm!!
Thank you so much for your wonderful help finding S- She will be arriving tomorrow, and we are so excited to start working with her. I really hope I get the chance to meet you again, you are such a lovely person!
"Thank you Clare. I appreciate your kindness and also your consideration in helping me find the right position. I think I will be with my new employer forever!! I'm pleased to have found a domestic agency which provides a truly professional service – one that I can trust. You have been so quick and accurate – I will recommend you to all my friends and there should be more people like you around!!
However, please keep in contact with us as who knows where we may be next year..I very much enjoyed working with you and wanted to thank you for all your help.
Dear Clare

Thank you so much for your reaching out and all your kind help and conversations.

A told me only the kindest things about your conversations and so, like Princess M L, we will be recommending you always and, who knows, perhaps be in touch again if the situation changes.

Many many thanks for your help, flexibility and advice.
Thank you so much for getting in contact and being so honest and professional – an absolute treasure and credit to the industry.
Thank you Clare,It is great to have you as our 'staff' guardian angel.
Thank you so much for your help with the search. Your service is exceptional, and I very much appreciate the effort you put in,
Kxx has been great so far, I think that she has fitted into the family really well and I've had no concerns at all with the children with her etc.  She has made a few meals for us now which have all been great.  She seems to have a really good level of common sense which is what I need as I am often out of the house for long days.  She is happy to talk to my 15 year old daughter about prom dresses and my youngest son about Paddington Bear! – Everyone's happy!
Lauren sounds wonderful Clare and I can't wait to meet her! Thank you so much – you are an angel and I'm so glad I called you.
Thanks Clare and I really appreciate your assistance and professionalism. Should we have other requirements in the future I will definitely be in touch.
Candidate Testimonials
Thank you so much for taking the time to meet with us and talk about domestic couple opportunities. I really admire the mission that drives your business, and look forward to the opportunity to work with you in the future.
Thank you for your email and for the delightful meeting this morning. Registration complete, I am extremely happy with the level of personalised attention you provide to each role. I feel comfortable and confident in your hands.
It was so nice hearing your voice this morning over the phone! Such good memories of my first years in London, tough as they were!. However, I will never forget how much you helped me and all the invaluable wise advice that you shared with me.
I must say that out of all the agencies I've registered with past and present I can say with absolute confidence that my first impressions of you and your service is first class. Thank you in advance for all your hard work and Input in helping me to find my next role.
Thank you so much for reaching out. It is definitely very rare to have a wonderful follow up so I am deeply moved by your gesture of kindness.
Hi Clare, It was lovely to meet you. You are an inspiration and you really made me think about myself and my own happiness in my search for my future employment. I absolutely love your agency. Its one of care and gives great attention to everyone's needs. I was browsing through the other night and I love the way you keep in touch with the people at their placements. I really admire that and how you are conscientious and thoughtful of where to place different people. I find that very uplifting!! and it gives me great confidence. I will take on board advice. I feel you get to know people extremely quickly!! Thankyou again Clare for a lovely interview.
Thank you for your kind words. I will recommend you and have in the past. I always enjoyed chatting with you as you are straight talking.
It was great speaking with you Clare. Thank you so much for your time and advice. It is really appreciated. Feeling so excited and happy about our future
Just wanted to let you know that you are one of the few (or maybe the only one) agents that gave me a clear idea of what is happening during a recruitment process.
You are so kind for sharing the relevant information that we need. It's so hard when applying for a new position… Employers always look for experience which we understand but how to get the experience when no ones willing to give us a chance? We do believe with all the valuable skills gained over the years in the Hospitality Industry there is no doubt we can perform the duties asking of us. Thank you again for taking the time to share your guidance.
I trust you are well. Thank you for the chat on WhatsApp yesterday. Initially, I did not quite grasp what you were trying to explain to me in the beginning, but then did!. I do respect your professionalism and advice.
Thank you very much for your suggesting a cooking course, it is really helpful. I have actually looked for one before, but did not find any thing which will be useful (they were all just one day, or just specific cuisine). I also hope our paths do cross. I wish you all the best, good luck and success – you sound absolutely fabulous. Your web site is really stylish and welcoming too.
We hope that business is good for you Clare and that Domestic bliss appointments go from strength to strength, you are still the best Domestic Agent in the field…!! No other agency has shown as much care and consideration to our welfare as you have…!!
Good morning Clare, good to hear from you and glad things are going well…!! We had a look at your new 'brochure' it is an excellent concept and a long awaited approach to this funny 'ol business!! In our experience it is amazing how many people treat their staff with a demeaning attitude!! It is more than a job to us, it is a lifestyle and often 24/7 even off duty we are very much 'onsite' and available, we are very flexible but sometimes the mutual respect for privacy and down time is very much one sided. As you know we are searching again for that 'illusive' possibly fictitious 'perfect' position. Our judge of character has proved to be no measure in which to go by. It does not look too good that we are now in our third, full time position in this business and now looking for our fourth!! Unfortunately our side of the stories are often unheard. Still, we are not quite yet broken and we are going to give one more position a try before we throw in the towel and change our career paths. With the launch of Domestic Bliss Appointments we have renewed faith and hope that finally a position with good, honest, genuine, mentally stable, emotionally unchallenged, realistic and non patronising employers comes our way…..fingers crossed!! :-)
Afternoon Clare, Just a wee update on our position re working as a couple. After your recommendations/editing our CV we secured a job in the Highlands. We are over the moon. The clients are fantastic. M & I want to thank you so much for all your assistance. If you hadn't guided us, we'd most likely still be struggling to get our foot in the door, and show our potential!
Hi Clare, I just wanted to say thank you for taking the time to speak with me this morning. You gave me lots of useful information which I have taken on board. I feel so much more confident on which way to continue forward with our new Housekeeping venture.
Thanks for all the tips, details and my CV. The CV you have created really illustrated me as a person and my experience, so I can't thank you enough.
Thank you Clare, you are one of the few (only) person(s) who took the time to explain this to me. I greatly appreciate it and will follow your kind advice.
I just wanted to say thank you for taking the time to speak with me this morning. You gave me lots of useful information which I have taken on board. I feel so much more confident on which way to continue forward with our new Housekeeping venture.
Thank you so much for your time this morning, it was such a pleasure to speak with you too and it has given me a big boost of confidence that I'm in safe hands to find a fantastic new role that's right for me.
A big thank you for our last phone conversation who helped me to project myself into this opportunity.
The CV is fabulous and is a transformation of what I sent you. I am very grateful. The first agent asked to keep my CV, and would be in touch if the client wanted to see additional candidates. No one has been in touch with me since then.The other agent contacted me on Thursday and said they wanted to talk to me on Friday about my candidacy in more detail and discuss the positions (more than one!) they had available. No one has been in touch with me since then.Neither of them had taken the time and trouble to ask me to properly re-write my CV, as you have done. Neither of them had invested the time in me that you have.Thank you so much for the guidance and advice Housekeeper 2020 July
It was an absolute pleasure to chat with you yesterday. Bodhi and I have had long discussions about the next step this year in the current situation and we've decided we will join private yachts for the season/ or 1yr contract. With this in mind we won't pursue the role discussed any further. However I cannot thank you enough for our discussion yesterday, how refreshing it was to speak to a agent that is so passionate and professional about provided a fully planned out and excellently delivered recruitment process for an industry that so desperately needs it. I have no doubt when I am ready to go land based, you will be the first person I call!
It was the most exciting and informative interview, nothing to compare with the other interviews we had with other agencies.
Adri and I wish to extend our sincerest gratitude to you for all your amazing input and time spent explaining how to present our CV's …this has been invaluable to the both of us. I don't believe that in my entire history of applying for jobs and revising my CV, speaking to recruiters or employers anyone has ever taken the time and made the effort to point me in the right direction.
Thank you for your time, enthusiasm and great CV feedback and top tips