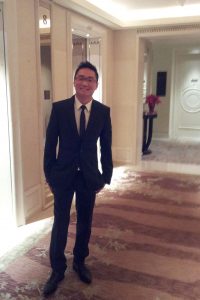 I had the pleasure to work with Rey when his boss moved to London from Singapore 'I was introduced to Clare, recommended by an ex-colleague when I moved my employer from Singapore to London. Clare was helping my employer to look for a personal assistant and recruited an amazing PA, Butler Housemanager Douglas to help with the relocation'.
For Domestic Bliss, Rey was a pleasure to work with – he had so much experience and was very caring and helpful.  His career started in a Singapore Casino where his role as Butler saw him taking care of high-level celebrity guests and led to him studying Butler and Household Management in Toronto. Rey started his adventures in the private service industry taking care of young Indian families and caring for international Chinese child celebrities. He covered every post from Manny, housekeeper, cook, dog walker and gained experience to become a high-level global house manager, travel butler, Personal assistant with property management in different countries, large art collection, wardrobe management, and large scale events planning- taking it all in his stride.
As Rey said to me 'It is such a multi-tasking job with a huge range of job responsibilities but yet feeling a great sense of satisfaction despite the long working hours. Is a privilege to have been able to serve my employer in their homes on the Estate or travel with them on private planes or  Yachts.'
How did Rey manage to stay so calm and focused in this complex demanding role? ' Regular Exercise routine such as weights, bodypump, spinning, and pilates helps me mentally in facing many challenges and overcome stress. It can be tough to keep up with my fitness, especially during a Long business trip. It required a tremendous amount of effort and discipline so I always got up at 6 in the morning to start my day with a workout'.
Rey is currently working in a pilates studio and studying pilates with Body Arts science international.