Like many people who spent years working on the seas you have a deep appreciation of its beauty and its fragility. I have watched Dolphins Eagles and Whales in Alaska and the Caribbean and seen turtles and amazing fish while snorkeling. One delivery across the Atlantic I was on watch  the night before landfall in the British Virgin Islands and there was a lovely soft swell the boat was surfing on when I saw a whale was right next to me – it was dark it was silent and we looked at each other as the boat and whale moved together side by side .  After a few minutes the whale surfed under a wave and was gone – I felt very lucky and humble.  Its so important with all the millions off PPE equipment that is likely to be dumped into the oceans that we consider how to protect marine life.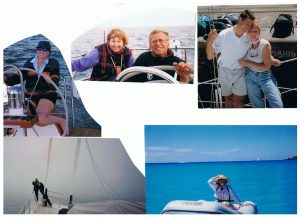 To teach children you can start with an aquarium https://www.facebook.com/amwellaquaticssoham  Sharon and Mark can help with expert advice .
The Mauritian Wildlife Foundation has done extraordinary work in saving endangered species on the island. Patrick Mavros creates the most stunning pieces celebrating the ocean and  A portion of sales from the new ''Forged By The Ocean" Collection will be donated to the Foundation.
https://www.patrickmavros.com/products/forgedbytheoceanmensinsilverhttps