Each day we will put a recipe with love on here to help you pass time and eat healthy during the Corona virus most things hopefully will be in your cupboard.  Justin Field is an amazing nutritional Chef who makes beautiful delicious food – he has reached out to Domestic bliss to help spread the love during this difficult time of the Corona Virus- Thank you Justin
Pink lemonade
1 cups of freshly squeezed lemon juice 2 cup fresh pomegranate juice
6 cups of filtered ice water 1 tablespoon Agave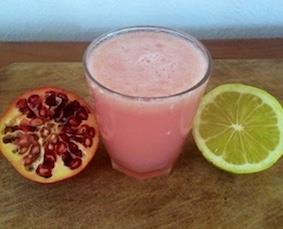 Apple and cinnamon chia pots
For the jam (makes 1-1.5 cups)
3 large apples, peeled and diced 3/4 cup 100% pure apple juice
2 tablespoons chia seeds 3/4 teaspoon cinnamon 1/2 teaspoon pure vanilla
extract (optional) pinch of fine grain sea salt
For the parfait:
1/2 cup gluten-free rolled oats
1 + 1/4 cups homemade or store bought almond milk
2 tablespoons chia seeds 1 teaspoon pure vanilla extract
1/2 teaspoon cinnamon, to taste (optional)
Apple Pie Jam (from above)
Chopped toasted walnuts (optional)
1. For the jam: Add all jam ingredients into a medium pot and stir to combine.
Bring mixture to a low boil. Reduce heat to medium-low, cover, and simmer for
15-20 minutes, stirring every 5 minutes or so. When the apples are fork tender,
remove from heat and mash 50% of the mixture to thicken. Set aside to cool.
2. For the vegan overnight oats: Combine the oats, chia seeds, almond milk,
vanilla, and cinnamon in a small bowl. Whisk to combine. Place in the fridge
overnight, or for at least 1-2 hours to thicken. Once the oats are softened and the
liquid is mostly absorbed, its ready. You can thin it out with more milk if needed
or thicken it with more chia seeds.
3. To make each parfait: Layer the vegan overnight oats with the apple pie jam, a
few spoonfuls of each per layer. Add toasted chopped walnuts on top of each
layer if desired.
4. Store leftover jam in an air-tight container or jar in the fridge.
Should last for at least 1-2 weeks.